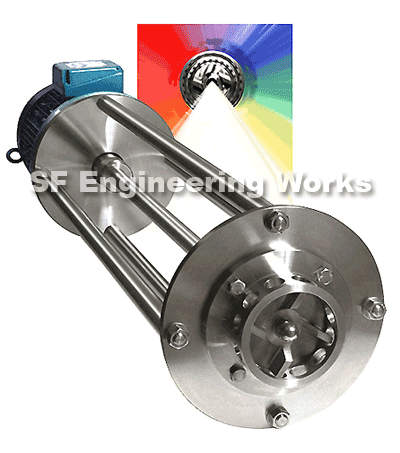 STANDARD IMMERSION MIXERS
S F Engineering's high speed immersion mixers offer considerable advantages over conventional stirrer/agitator systems. They are precision built products designed to give long trouble-free operation.

A precision designed rotor/stator arrangement is the key to their effective performance and high processing speeds. The bladed rotor rotates at high speed inside a fixed outer ring cutter or stator. This generates enormous centrifugal force drawing the material into the cutting chamber where it is subjected to a powerful mixing and cutting action.

It is then forced at high velocity centrifugally through the stator head generating high shear forces. The process is then repeated continuously with the entire vessel contents to give uniform and progressive processing of the material but with little or no aeration or surface disturbance. By varying the rotor/stator arrangement, it is possible to produce a wide choice of shear ranges to suit different applications. Interchangeable heads mean that the same mixing machine can be used to perform a variety of functions including homogenising, blending, dispersing and emulsifying. We will also design special rotor/stator combinations for customers with specific requirements.


INTERCHANGEABLE MIXER HEADS
A range of easily interchanged heads can be supplied so that machines can be adapted to offer a wide range of mixing operations.

General Purpose - A versatile disintegrating head with a vigorous mixing action. Suitable for general purpose applications and the preparation of gels, thickeners, suspensions, solutions and slurries.

Slotted - Designed for the disintegration of fibrous materials including animal and vegetable tissues as well as the preparation of rubbers and polymers.

High Shear - The square hole configuration produces exceptionally high shear rates for the rapid reduction of soluble and insoluble granular solids and the preparation of emulsions and fine colloidal suspensions.

Emulsifying - Suitable for liquid/liquid preparations and emulsions. Can be supplied in fine, medium or coarse perforations.

ROTORS - Single sided unit shown

DOWNTHRUST PROPELLER - Fitted to central drive shaft, with adjustable positioning to suit the application requirements

HIGH SPEED IMMERSION MIXER all dimensions in millimetres



Model No.

hp

kW

rpm

Mixing Capacity max* litres/hr

A

B

C

D

E

F

G

Circular Flange Details Only

SFSI/1

1.0

0.75

2900

220

120

600

890

255

255

203

12

SFSI/2

2.0

1.50

2900

450

160

700

1000

272

255

203

12

SFSI/4

4.0

3.0

2900

675

165

800

1140

308

340

292

15

SFSI/5.5

5.5

4.0

2900

1200

165

1050

1400

321

340

292

15

SFSI/10

10

7.5

2900

1800

285

1225

1660

371

410

356

15

SFSI/10

10

7.5

1450

2250

285

1225

1660

371

410

356

15

SFSI/10

10

7.5

960

5000

420

Variable length

SFSI/15

15

11

1450

3500

368

1525

2090

495

485

406

19

SFSI/20

20

15

2900

2250

285

1225

1790

495

410

356

19

SFSI/20

20

15

960

7000

420

Variable length

Notes: Purpose designed machines and larger models can be manufactured to suit customer requirements.

* These figures indicate water volumes achieved with general purpose mixer head fitted.

Mixing capacities vary according to the process material, viscosity, shape of vessel etc. and will progressively reduce as viscosity increases.


OPTIONS
• Other materials of construction
• Flameproof motors
• Electronic speed control
• Two speed motors
• Custom designs