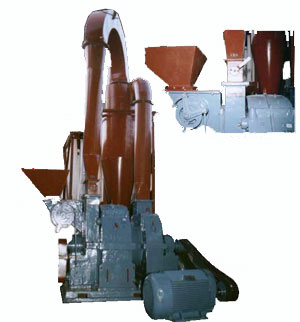 Air swept type, screenless, recommended for minerals, ores, dyestuff, chemicals, clays etc. Not recommended for wet or sticky material.
| | | |
| --- | --- | --- |
| SIZE | HP | APPROX. CAP IN KGs/HR. |
| 15 | 7.5 | 50-70 |
| 20 | 15 | 100-150 |
| 25 | 25 | 125-225 |
| 32 | 50 | 500-600 |
| 42 | 100 | 1000-1300 |
PRINCIPLE:
The material is passed from the feed tray to the grinding chamber where it is crushed to fine particles by free swinging hammers rotating at high speeds. The pulverised powder passes through a screen and is collected pneumatically by a cyclone collector at the bottom in bags.
SPECIFICATIONS
Impact Pulverizer is suitable for grinding of Minerals, Clays, Limestone, Neeru, Dolomite, Coal, Bauxite, Baryten, Gypsum, China Clay, Soap Stone, Calcite, Bentonite, Calcined bone, Carbon Black, Felspur, Kaolin, Talc, Mica Chips, Asbestos, Leather chips, Baisan, Gram Dal, etc etc.
The Pulverizer consists of a machined body bolted together inside which rotate forged steel hard faced balanced hammers mounted on a solid alloy steel shafting. The shaft rotates in self aligning ball bearings installed in C.I. housings provided with grease cups. Replaceable C.I. breakers plate are fitted on to the main body which acts as the stator and facilitates Pulverizing. The material is filled in a hopper and fed by means of a automatic rotary feeder gear driven from the main shaft. After Pulverizing the material is separated by a whizzer type classifier provided with adjustable mesh control to control fineness. A paddle type section is provided complete with pneumatically working cyclone, dust collector and interconnecting piping.