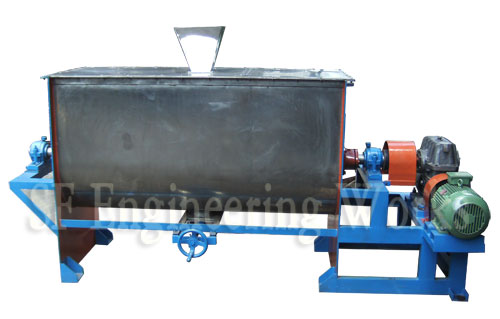 Putty Mixer / Paddle Mixer
APPLICATION:

This agitator is excellent for mixing both wet and dry ingredients. It's recommended for mixing heavy, resistant items such as fertilizer, plaster, chemicals, minerals, detergents, sweeping compounds, dry wall products and caulking, as well as coffee, tea, and soil mixes; oil bound distemper, putty and other heavy chemicals etc. Our paddle agitator is also extensively employed in the feed manufacturing industry mixing feeding rations for poultry, cattle, dairy, horses and sheep with and without liquid molasses and fat.
CONSTRUCTION:
These mixers consist of a ~U~ shaped container [fabricated in M.S. or S.S.] This is the most versatile agitator we build. It contains an equal number of forward and reversing paddles which constantly moves the ingredients from one end of the mixer's tank to the other. Paddles, which move material toward the outlet, are fitted to within 1/8" of bottom of tank furthermore, they're adjustable to assure optimum cleanout as well as compensate for wear. The agitator's reversing paddles are located several inches from the bottom of the tank. This provides 3 distinct advantages. Because forward and reversing action occurs on different planes the ingredients are able to flow easier and faster from one end to end. The result is better circulation and faster mixing with less power required for operation. Unloading is also faster and clean out more thorough due to the fast only the forward paddles come in contact with the material in the tank when the last part of the load is being discharges. There's no interference caused by the reversing paddles attempting to move the material away from the outlet. The result is reduced unloading time and more through cleans out than was previously possible. The shafts are located in bearing blocks, which are complete with gland packing; roller bearings and oil seals for smooth and leak proof operation. A hinged type top cover with loading hopper and locking bolts is provided with the mixer. A screw type manually operated quick opening valve is provided at the central bottom position of the mixer. The mixer is supported on a heavy duty frame structure fabricated from ISMC sections and is free from vibrations.
Another distinct advantage of this agitator is its ability to precession mix small batches. The mixers may be loaded to only 20% by volume without affecting mixing accuracy. Consequently, a larger mixer may also be employed to mix an occasional small batch without sacrificing mixing accuracy.
DRIVE: MOTOR & GEAR BOX.
The drive consists of a 3 Ph TEFC 415 V electric motor coupled to a horizontal worm reduction gear box complete with couplings, guards etc which run the paddle at approx 50 RPM.
OPTIONAL:
Flame Proof Drive.
SS 316 Construction
Jacket Arrangement